Rio de Janeiro, known as the "Cidade Maravilhosa" or Marvelous City, is a bustling metropolis located on the southeastern coast of Brazil. Famous for its beautiful beaches, vibrant nightlife, and iconic landmarks, Rio de Janeiro is a popular tourist destination for people from all over the world.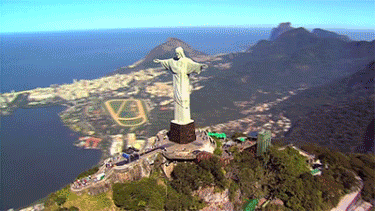 I've been to Rio more than once, mostly to enjoy Rock'n'Rio. And despite its bad reputation for violence and crime, I have never had problems there. Bruno, one of the interviewees I have talked to, told me he's been living there for quite a while, he has been through some situations, but he doesn't even think about moving out of the city. "It is not fancy as São Paulo, it's a place you can be yourself and where flipflops to almost everywhere"
There are many amazing places to see. We must remember Rio was the capital of Brazil until the 50's and the Portuguese Royal Family also lived there. We find in Rio a lot of history and culture. Old palaces, museums, and galleries, it is not only a place for beaches and parties.
But of course, we are going to list the most iconic places to visit. Starting by the most famous attraction:
One of the most iconic landmarks in Rio de Janeiro, Christ the Redeemer stands tall atop Corcovado Mountain, overlooking the city. The statue, which is over 30 meters tall, is a symbol of Brazilian Christianity and has become a must-visit attraction for tourists. You can reach the statue by taking a train or bus up to the top of the mountain.
Copacabana Beach is one of the most famous beaches in the world and a great place to spend a day soaking up the sun. The beach is lined with restaurants, bars, and vendors selling everything from beach towels to fresh coconuts. At night, the beach comes alive with music and dancing, making it a great place to experience Rio de Janeiro's lively nightlife.
Cable Car to Sugarloaf Mountain
Sugarloaf Mountain is another iconic landmark in Rio de Janeiro that offers stunning views of the city. To reach the top, you can take a cable car from the base of the mountain. Once you reach the top, you can enjoy panoramic views of Rio de Janeiro and the surrounding mountains.
Rio de Janeiro Botanical Garden
If you're looking for a break from the hustle and bustle of the city, the Rio de Janeiro Botanical Garden is a great place to spend a few hours. The garden is home to a variety of plants and trees, as well as several walking trails and a lake. It's a great place to relax and enjoy the natural beauty of Rio de Janeiro.
There's no better place to experience it than at a samba school or club. Samba schools offer classes and performances, and there are also several clubs throughout the city where you can dance the night away to live samba music.
The BEST food in the world (in my opinion, of course)
Brazilian cuisine is diverse and delicious, and Rio de Janeiro is no exception. Some must-try dishes include feijoada (a stew made with black beans and meat), churrasco (Brazilian-style barbecue), and coxinha (deep-fried chicken croquettes). There are also plenty of street vendors selling snacks like pastels (fried pastries filled with meat, cheese, or vegetables) and açaí bowls (a popular Brazilian dish made with frozen açaí berries and topped with fruit and granola).
Well, not everything is beautiful in Rio unfortunately. We must be careful when visiting. So remember some tips from Ana, an original carioca who's been living there for all her life!
Avoid walking alone at night, especially in secluded areas.

Keep your valuables out of sight and don't carry large sums of cash.

Use official taxis or ride-sharing services rather than hailing a cab on the street.

Be aware of your surroundings and avoid displaying expensive items like cameras or jewelry.

Stay in well-lit areas and stick to main streets and tourist areas.

And, of course, if possible go around with someone who really knows the place.
By taking these precautions, you can enjoy all that Rio de Janeiro has to offer while staying safe and secure.
A visit to Rio de Janeiro is an unforgettable experience that offers a mix of natural beauty, cultural experiences, and lively nightlife. With its stunning landmarks, beautiful beaches, and delicious cuisine, Rio de Janeiro is sure to leave you with memories that will last a lifetime.
That's it for today guys! And don't forget to keep tripping with us!